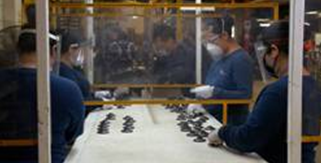 Quality Assurance and Best Practices with a Southern California Company
IPS is proud to be ISO 9001:2015 certified – through hard work and dedication we have established a corporate culture of quality consciousness throughout our organization. This helps assure consistency throughout our production process and provides traceable records of our quality system.
ISO 9001:2015 is the most commonly used international standard for systematic quality management. This ISO certification through an objective third party validation helps us to:
Meet our customer's and quality systems requirements
Enhance customer satisfaction and maintain service consistency
Achieve continuous improvement in our performance
Ensure greater effectiveness of our management systems
Facilitate and enable consistency in all processing
Enhance responsibility and quality consciousness amongst staff
Minimize defects and product failure
Maintain up to date quality control documentation
Ensure that proper documentation and controls are in place in each of the different departments of the operation.
With this achievement, we want to communicate that we have undergone a comprehensive, rigorous assessment and assure everyone that is doing business with us that our process, methods and organization meet defined standards of quality. This ensures that our systems have been adequately defined in detail, and that corrective action systems are fully developed and functional, reducing the need for costly conformance inspections. By reinforcing our unwavering commitment to quality across the board, these efforts help us earn and retain the trust and confidence of our existing and future customers.